Product Description
Diameter of mounting hole: 12.3 mm
Diameter of mounting hole: 16.3 mm
AD16-16A AD16-16B AD16-16C AD16-16D
Diameter of mounting hole: 22.3 mm
AD16-22B AD16-22C AD16-22D AD16-22E AD16-22F AD16-22I AD16-22H AD16-22P PL1-D
Diameter of mounting hole: 35.5 mm
Diameter of mounting hole: 62.2 mm
Technical Parameters
| | | | | | |
| --- | --- | --- | --- | --- | --- |
| Products series | AD16-12A | AD16-16A | AD16-16B | AD16-16C | AD16-16D |
| Image gallery | | | | | |
| Work life | ≥ 30,000H | ≥ 30,000H | ≥ 30,000H | ≥ 30,000H | ≥ 30,000H |
| Brightness | ≥100cd/m2 | ≥100cd/m2 | ≥100cd/m2 | ≥100cd/m2 | ≥100cd/m2 |
| Protection | IP54 | IP54 | IP54 | IP54 | IP54 |
| Standard | IEC 60947 | IEC 60947 | IEC 60947 | IEC 60947 | IEC 60947 |
| Certification | CCC CE RoHS | CCC CE RoHS | CCC CE RoHS | CCC CE RoHS | CCC CE RoHS |
| | | | | | | | |
| --- | --- | --- | --- | --- | --- | --- | --- |
| Products series | AD16-22B | AD16-22C | AD16-22D | AD16-22E | AD16-22F | AD16-22H | PL1-D |
| Image gallery | | | | | | | |
| Work life | ≥ 30,000H | ≥ 30,000H | ≥ 30,000H | ≥ 30,000H | ≥ 30,000H | ≥ 30,000H | ≥ 30,000H |
| Brightness | ≥100cd/m2 | ≥100cd/m2 | ≥100cd/m2 | ≥100cd/m2 | ≥100cd/m2 | ≥100cd/m2 | ≥100cd/m2 |
| Protection | IP54 | IP40 | IP54 | IP54 | IP54 | IP54 | IP54 |
| Standard | IEC 60947 | IEC 60947 | IEC 60947 | IEC 60947 | IEC 60947 | IEC 60947 | IEC 60947 |
| Certification | CCC CE UL RoHS | CCC CE UL RoHS | CCC CE UL RoHS | CCC CE UL RoHS | CCC CE UL RoHS | CCC CE UL RoHS | CCC CE UL RoHS |
| | | | | | | |
| --- | --- | --- | --- | --- | --- | --- |
| Products series | AD16-22D/rg | AD16-22S | AD16-35KTKA | AD16-22W/G | AD16-22W/D | AD16-22W/N |
| Image gallery | | | | | | |
| Function | Dual color indicator, red|green | Flash indicator | Dual color indicator, red|green, red|yellow | Disconnector position indicator, round, square, | Circuit breaker position indicator, round, square, | Ground position indicator, round, square, |
| Work life | ≥ 30,000H | ≥ 30,000H | ≥ 50,000H | ≥ 30,000H | ≥ 30,000H | ≥ 30,000H |
| Brightness | ≥100cd/m2 | ≥100cd/m2 | ≥300cd/m2 | ≥100cd/m2 | ≥100cd/m2 | ≥100cd/m2 |
| Standard | IEC 60947 | IEC 60947 | IEC 60947 | IEC 60947 | IEC 60947 | IEC 60947 |
| Certification | CCC CE UL RoHS | CCC CE UL RoHS | CCC CE RoHS | CCC CE RoHS | CCC CE RoHS | CCC CE RoHS |
| | | | | |
| --- | --- | --- | --- | --- |
| Products eries | AD16-22I | AD16-22P | AD16-35KTKA | AD16-60KTKA |
| Image gallery | | | | |
| Application | Outdoor, mechanical equipment, subway safety door | Outdoor, mechanical equipment, subway safety door | Outdoor, mechanical equipment, subway safety door | Outdoor, mechanical equipment, subway safety door |
| Work life | ≥ 50,000H | ≥ 50,000H | ≥ 50,000H | ≥ 50,000H |
| Brightness | ≥200cd/m2 | ≥100cd/m2 | ≥300cd/m2 | ≥300cd/m2 |
| Protection | IP67 | IP54 | IP67 | IP67 |
| Standard | IEC 61373 IEC 60947 DIN5510 EN45545 | IEC 61373 IEC 60947 DIN5510 EN45545 | IEC 61373 IEC 60947 DIN5510 EN45545 | IEC 61373 IEC 60947 DIN5510 EN45545 |
| Certification | CCC CE UL RoHS | CCC CE UL RoHS | CCC CE UL RoHS | CCC CE UL RoHS |


Common Parameter
| | | |
| --- | --- | --- |
| Ambient temperature | Relative air humidity | Comparative tracking index |
| -25℃ ~+55℃ | ≤98% | ≥175 |
Note:
1) AD16 series indicators have all applied the high-bright pure LED lighting chips as the light source with long service life, low energy consumption, small volume and light weight. They are the upgraded products of various XD type incandescent lights and neon light indicator.
2) The various international standard symbols or custom-made symbols can be printed in the lampshades.
3) The lampshades are made of high-strength polycarbonate with good impact resistance performance.
Go download center and get for products datasheet
Products installing size
AD16-35KTKA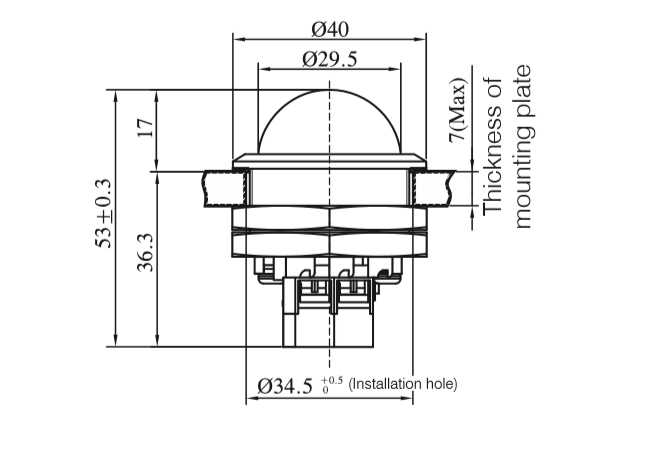 AD16-60KTKA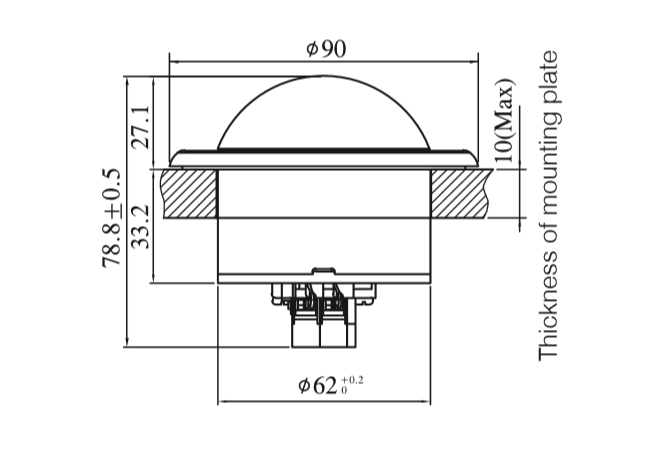 PL1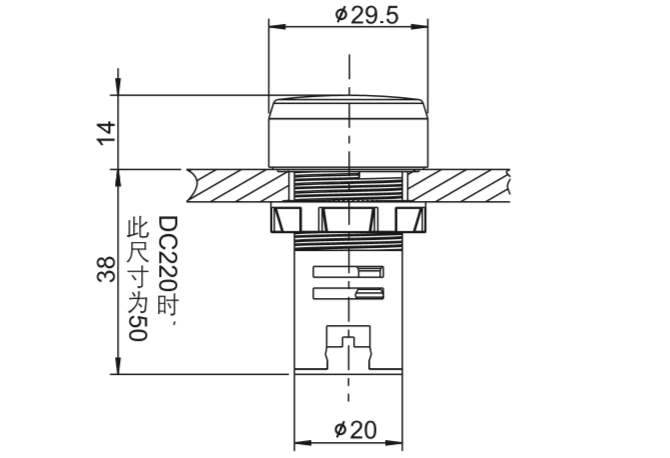 FAQs
2. What color is the indicator lamp?